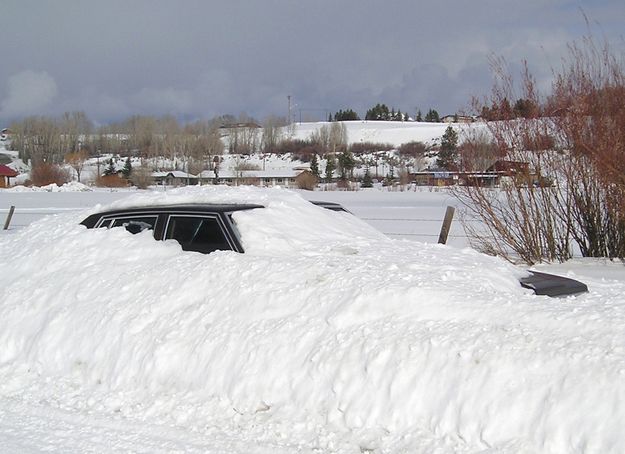 National Weather Service predicts
No Spring for Pinedale
James Snowman, head meteorologist for the NWS in our region, provided a long-range weather forecast update for the Pinedale area. "Yep, winter is here to stay. Spring simply will not be coming this year. Not to worry though, we forecast our first sunny, warm day will arrive sometime in August."
Several longtime Pinedale residents were unimpressed with the forecast. "Really? Like we ever have a spring? What you say? Back in '08? Right- that lasted what, 3 days? I can make that forecast every year and be dead on right!" said Billy Timbers, a local shop owner specializing in sunscreen and window air conditioners.
Others were resigned to accept the ominous forecast. Carol Skatewater, who runs the town outdoor swimming pool, maintained a brave stance. "Well, I'm happy to say that the local hockey league is extending their season thru June. Oh- and Billy over there has promised a 75% discount on sunscreen once the pool opens!"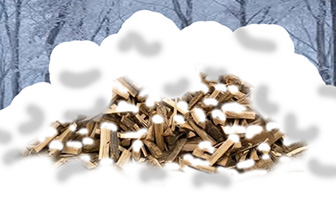 Community leaders are asking residents to be diligent with their wood piles as the winter drags on. Fears of riots, looting and general lawlessness are a major concern. The Sheriff's office has advised residents to obscure their remaining firewood to reduce temptation. "I know this seems ironic, but just push a little more snow around that stack. Not only does it help hide the precious fuel, but it's also a natural deterrent since everyone's sick of the white stuff!"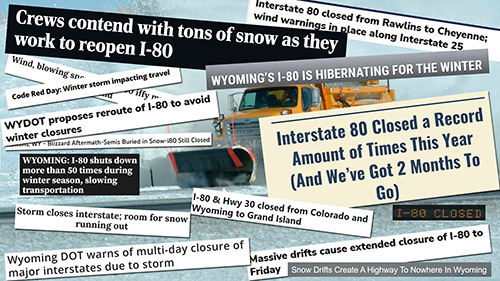 WYDOT implements underground transportation system across state for winter travel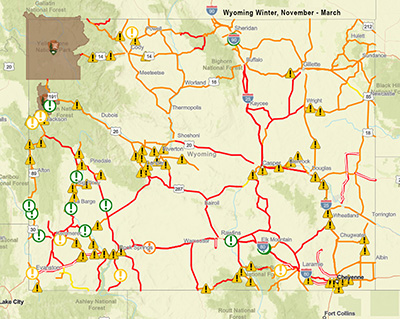 In an impressive show of joint cooperation between government and private industry, the Wyoming Department of Transportation has announced a new project to help alleviate the stoppage of traffic flow due to harsh winter conditions in Wyoming.
The first part of the project was begun several years ago called the KOW Tunnel (Keep Out Winter) being built on Interstate 80 between Rawlins and Laramie. (see Pinedale OFFline 2016)
The Department is now expanding that with a network of underground tunnels to connect highway travel corridors around the state. These tunnels are utilizing the left-over underground directional drilling and pipeline corridors created by years of natural gas drilling and exploration all across Wyoming. The tunnels already exist underground and already have the necessary permitting and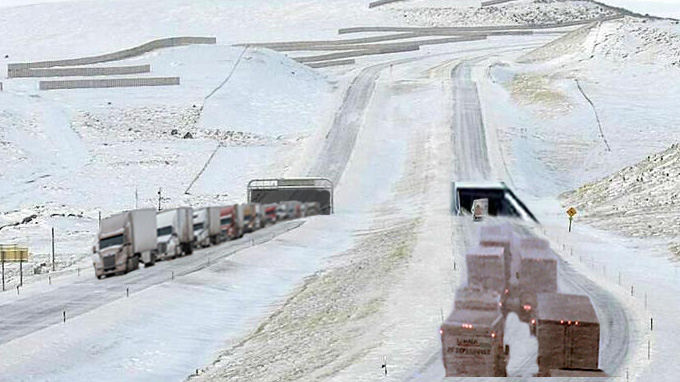 access right-of-ways through the properties. WYDOT only needs to enlarge them slightly and put the roadway and lighting in place to make them functional. Wyoming Department of Transportation Highway Engineer John Jones said some of the routes between towns are significantly shorter using the underground network avoiding above-ground obstacles. "Since we can't go above ground as the crow flies, we're going underground as the gopher goes," he laughed.
As long as roads are passable in the winter, regular surface roads will continue to be used for all travel as usual. Once surface roads have to be shut down during winter blizzard conditions, the underground network of bypass tunnel trap doors will be opened and activated to keep traffic flowing under the closed road sections. When surface roads are reopened, traffic will again be routed to above-ground road systems and the trap doors to the underground tunnels will be closed until needed again.
WYDOT engineeers estimate they will ultimately save billions of dollars in not having to do 24-hour snow plowing of 12 foot drifts across major highways in Wyoming. The national economy will also benefit by ensuring vital truck traffic flow continues across the state even in the worst of winter weather.
Once again, Wyoming has shown itself to be innovative and creative in solving challenging engineering problems to keep everything moving and people safe while traveling across our beautiful state.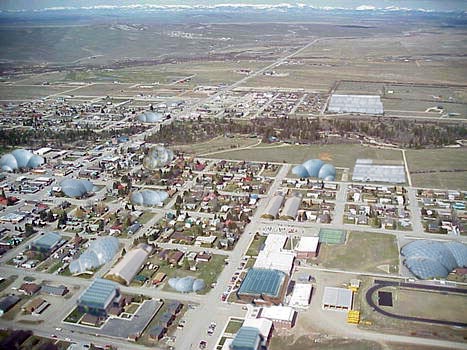 Pinedale decides to
Go All Green
On Thursday, March 30th, the Town of Pinedale held a public workshop on their "New Pinedale Master Plan." Town officials said pretty much everyone is tired of the nine months of winter we have here. They were very impressed with what the town of Rawlins, now called Riviera, has down with their dome covering the entire town built in conjuction with WYDOT's KOW (Keep Out Winter) tunnels along Interstate 80.
Pinedale's plan is to expand on Rawlins' success to start encouraging local businesses and residents to incorporate greenhouse technology into their new construction and renovations. The Town believes it will help create a more attractive community, capture the benefit of the winter sun, and ultimately allow the Town to become self-sufficient for food and energy while creating much-desired green space year-round.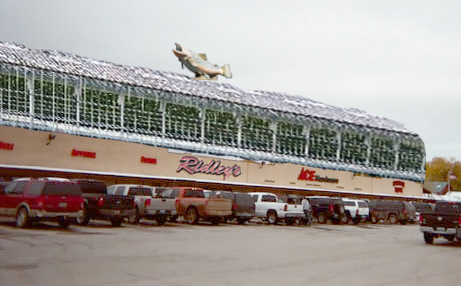 The first business in Pinedale to embrace the new green architecture was Ridley's grocery store. They have built a new second floor greenhouse that extends the length of their building. The greenhouse will provide fresh produce including lettuce, tomatoes, cucumbers, beans, broccoli, carrots and more to stock their produce department. They said they were happy not to be left with empty shelves because their trucks can't get to town when the roads are closed in the winter. Some of their employees have already said they'd be happy to go up on their breaks to do a bit of watering and weeding as a chance to enjoy the sunshine and green environment during the work week. A new "Grow Local" work-study and apprentice program is also being explored through the local middle and high school.
Several local restaurants are also planning on putting in rooftop garden greenhouses to provide them with fresh produce for their menus. "The cost of all food products has gone sky high, so we see it as being economically viable for us to grow locally," said Ron Farmer, owner of the Pinedale Gourmet Café. "We'll put in the rooftop garden first, then we'll offer rooftop seating as a dining option for people who want to have a more romantic ambiance and the pretty view of the mountains. In the summer, we can open up it all up and it will have a wonderful breeze up there," he said.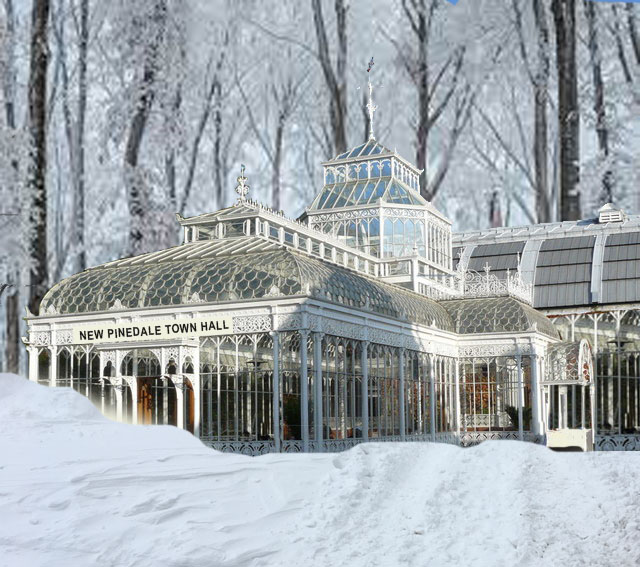 "We're not like Seattle," Pinedale Mayor Mark Greenmore said, "We have sunshine many days of the year during the winter. We just need to get better at capitalizing on it," the Mayor explained.
"We'll be renaming the town 'New Pinedale'," he said. "Just like people before us named their new towns New York and New Bedford, we'll be creating a whole new look and feel for our quaint little Wyoming town, and that deserves a new name," he said. They are excited that the new New Pinedale Town Hall is one of the first buildings to be retrofitted with a new glass facade and will incorporate lush greenery inside.
The Town has already spent months working with local business, organizations and engineering firms to discuss methods of efficiently removing and redirecting snow and pumping the water back up into Fremont, Half Moon, Soda and Willow Lakes for additional water storage. The Town has seen the need for years to do as much as possible to retain our local snow resource and recycle it back into the environment. The new drainage network system will provide the irrigation water year-round for all the new greenhouses. It will also help with the continual underground summer overflow coming out of the Pinedale moraine on the north end of town. It is a masterful feat of recycling engineering, the Mayor said.
Main Street Pinedale is already getting grants ready to accept Pine Street Go Green greenhouse renovation project proposals. Stay tuned for information on applying.